ONE STOP GLOBAL SOLUTION
Whether it be upstream actions like market research and document creation and translation,
downstream actions such as packaging design and manufacturing, or even as far as aftermarket support,
we are your one-stop organization providing services and solutions in the global market.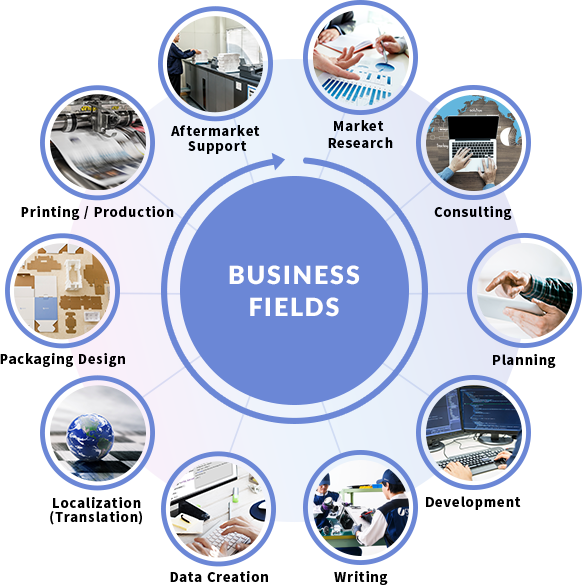 With a focus on business related to document creation, Crestec Group provides client companies with an array of services, from writing the instruction manuals included with their products and service manuals for service technicians (writing text for users based on specification documents and actual products, etc.), to services such as creating illustrations, data formatting, translation, and printing. To create documents that will allow users to operate products in a safe and easily understood manner after reading them, it is important to be involved in creating the documents at the development stage. The end result is data, printed matter and other materials with a high degree of originality in which specialized technical information is expressed in a way that is easy to grasp. This is our business.
The following are the main product groups involved in Crestec Group's creation of "Technical Documentation".
・Home electronics (televisions, video, washing machines, refrigerators, sewing machines, electric ranges, air conditioners, coffee machines, etc.)
・Information systems (cellular phones, printers, fax machines, copy machines, personal computers, etc.)
・Digital devices (digital cameras, video game systems, music equipment, etc.)
・Transport equipment (two-wheeled and 4-wheeled vehicles, construction equipment, general purpose engines, ships, etc.)
・Medical equipment (various analytical and examination equipment)
・Industrial equipment (industrial robots, machine tools, etc.)
・Various services
Technical documentation business is our foundation, so we provide integrated upstream and downstream support for our client companies. In addition to performing market trend surveys and confirming the laws and ordinances in other countries regarding new products being developed by our clients, our support also expands beyond document creation and printing to related business such as packaging design and transport of printed materials. Additionally, in the interest of improving the efficiency of document creation, we are engaged in expanding our business to the development and sales of document creation software such as manuscript creation support software, translation support software and data management systems in order to put the power to develop documents into the hands of our clients.