Localization (Translation)
In order for a company to become global or export products, translation is essential. At Crestec, it is our standard practice to use native translators for localization. Because the text is translated considering the language culture and customs in each country and region, this has led to increased trust from global companies who have experienced our service many times.
1. Translations into Over 90 Languages
In addition to Japanese to English translations, we also offer translation services, such as translations from English into other languages and translations into Japanese, using the optimum method and costs to suit the client's goals. Because we have significant experience with localization, we are able to provide complete services from complicated analysis to inspection.
Languages Supported
1 Icelandic
2 Irish
3 Azerbaijani (Cyrillic alphabet)
4 Azerbaijani (Latin alphabet)
5 Afrikaans
6 Arabic (Egypt)
7 Arabic (Saudi Arabia)
8 Arabic (Jordan)
9 Albanian
10 Armenian
11 Italian (Italy)
12 Italian (Swiss)
13 Indonesian
14 Ukrainian
15 Uzbek (Cyrillic alphabet)
16 Uzbek (Latin alphabet)
17 Urdu
18 Estonian
19 Dutch (Holland)
20 Dutch (Belgium)
21 Kazakh
22 Catalan
23 Kyrgyz
24 Greek
25 Khmer
26 Croatian
27 Georgian
28 Swedish
29 Spanish (Argentina)
30 Spanish (Cuba)
31 Spanish (Spain)
32 Spanish (Dominican Republic)
33 Spanish (Puerto Rico)
34 Spanish (Mexico)
35 Slovak
36 Slovene
37 Swahili
38 Zulu
39 Serbian (Cyrillic alphabet)
40 Serbian (Latin alphabet)
41 Thai
42 Tagalog
43 Tajik
44 Tamil
45 Czech
46 Zhuang
47 Telegu
48 Danish
49 Turkmen
50 Turkish
51 German (Austria)
52 German (Switzerland)
53 German (Germany)
54 German (Belgium)
55 Nepalese
56 Norwegian (Bokmal)
57 Hungarian
58 Hindi
59 Burmese
60 Finnish
61 French (Canada)
62 French (Switzerland)
63 French (France)
64 French (Belgium)
65 Bulgarian
66 Hebrew
67 Vietnamese
68 Belarusian
69 Bengali
70 Persian
71 Bosnian (Cyrillic alphabet)
72 Bosnian (Latin alphabet)
73 Portuguese (Brazil)
74 Portuguese (Portugal)
75 Polish
76 Macedonian
77 Marathi
78 Maltese
79 Malay
80 Moldavian
81 Mongol (Cyrillic alphabet)
82 Latvian
83 Lao
84 Lithuanian
85 Romanian
86 Russian
87 English (United States)
88 English (United Kingdom)
89 Korean
90 Japanese
91 Chinese (simplified)
92 Chinese (traditional; Hong Kong)
93 Chinese (traditional; Taiwan)
Examples of Product Categories
• Optical equipment
• Automotive
• Heavy industrial machinery
• Home electronics
• Security systems
• Communication devices
• Multi-function products
• Software
• Apps for mobile devices
• Medical devices
• Mobile devices (mobile phones, smartphones, and tablets)
Examples of Material Types
• Owner's manuals
• Maintenance manuals
• User Interface (UI) menus and messages
• Software
• Packages
• Catalogs
• Legal text
2. Translation Quality
Crestec uses over 1,000 translators. By using only native-speaking translators who live in the countries where the target language is spoken, the translations can reflect changes over time in the words and expressions in order to produce natural translations that convey the correct meaning to native speakers. Our experienced translators, who are very familiar with the characteristics of your product and brand, translate using technical writing knowledge and skills. Newly registered translators must complete test translations during a trial period. Their performance is monitored using numerical values assigned by our specialized section and the information is managed in a database.
Implementation of Strict Quality Control Using Multiple Monitoring Functions and Systems
The text received from native translators is checked based on the QA standards of GALA and other international translation organizations, and the accuracy of the entire text is judged by both a person and a tool (program). Crestec has an editing department staffed with full-time native proofreaders. The proofreaders carry out the work that can be performed only by a person, such as checking for mistranslations, judging whether the sentences are easy to read, and ensuring that there are no expressions that could cause misunderstandings. In addition, we carry out computer-aided checks using our proprietary translation support tool to check for easily made mistakes, such as omitted translations, inconsistently translated words, and incorrect values, to thoroughly eliminate errors from the translations. As a result, we are able to provide translations at a consistently high level of quality. In addition, each translation project is evaluated on a 5-level scale, and the positive and negative evaluations are stored and managed in a database. If the evaluation of a translation is in the bottom two levels, a detailed evaluation is sent to the translator in order to increase the quality of the translator's translations.
Check System for Ensuring Translation Quality
Translation delivery from translators
↓
Language checks from native speakers
・Proofreading according to the translation quality check items and the proofreading instruction sheet
・Computer-aided quality check using a tool
↓
The quality score of the translation is determined and the score is indicated on the proofreading instruction sheet as "Excellent Quality," "Good Quality," "Sufficient Quality," "Below Standard," and "Unsatisfactory." If the translation is judged to be "Below Standard" or lower, a detailed evaluation and the analysis results are sent to the translator along with advice. If there is a problem, improvements are requested, or warnings and penalties are initiated.
Proposing the Translation Method according to the Requests
Crestec translation methods can mainly be classified into two types: translation using translation-support tools, which uses translation memory and a CAT tool (computer-assisted translation tool), and hybrid machine translation, which uses a machine-translation engine.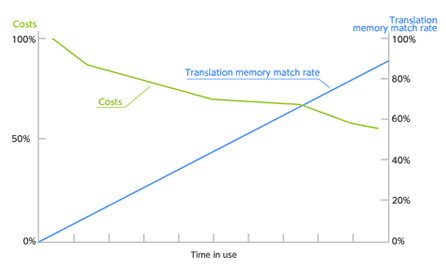 1 Translation Using Translation-Support Tools
By using translation assets (translation memory), text can be translated efficiently, which makes it possible to reduce costs. In addition, from a quality standpoint, this method has the benefit of ensuring that the terms and expressions used in a document are consistent. Therefore, this method is used for user guides and many other translations that require a high level of accuracy.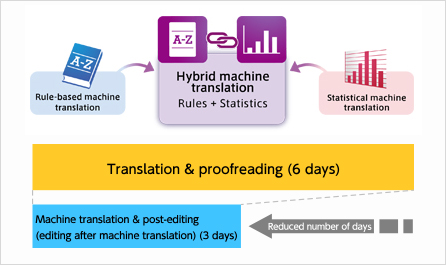 2 Machine Translation
Crestec uses hybrid machine translation that combines "rule-based machine translation," which translates using a combination of grammar rules and a dictionary, with "statistical machine translation," which translates by analyzing the connections between words in accumulated translation assets. Because the translation is accurate and consistent, it feels like a natural translation from a human translator, not a translation from a machine. In addition, unlike machine translation services available online, the translations are performed in a closed environment so you do not have to worry about information leaks. Because hybrid machine translation can reduce the lead time and lower costs, we recommend it when you want to translate a large volume of technical documents or documents for internal use.